YAMAHA G2 RESHAPED RIB PARING
Accompanying notes can be found below the image.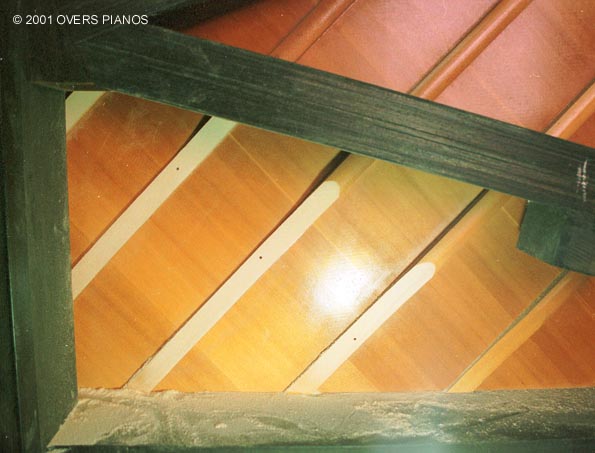 The holes for securing the new cutoff bar to the upper side of the sound board panel can be seen protruding through the ribs. The rib paring was taken back to approximately 125 mm (5") towards the center of the belly from the cutoff bar attachment holes. This work was undertaken with the original sound board in place, and therefore access was moderately difficult (in particular for the rib behind the back braces). An angle grinder with 'Flap Disk' and a half round wood rasp was used to remove the bulk of the wood, finishing it finally with freecut paper. This type of modification is unlikely to become routine at Overs Pianos. Such 'knife and fork' work is best restricted to prototype exercises only.

After the cutoff bar was glued and screwed in place and the glue properly dried, the screws were removed and the holes plugged with 7/32" maple hammer shanks. The revised rib paring was sealed to slow moisture take-up by the sound board.

During the course of paring the ribs, the author noticed that there were several places around the perimeter of the sound board attachment to the inner rim, where the sound board panel was uncoated between the sound board seal coat and the glue bead between the panel and inner rim. This has been noted before on many pianos. This inattention to detail must surely allow moisture to enter and leave the sound board with impunity, and must be detrimental to tuning stability. As a remedial measure, the bare panel areas were brush sealed.

TO RETURN TO OVERS' MAIN BROWSER WINDOW, PLEASE CLOSE THIS WINDOW AT THE TOP-LEFT CLOSE BOX


First published 17 March, 2001
Copyright © 2001, Overs Pianos.